Sunsets to expect
Patrik Qvist
Patrik Qvist – Sunsets to expect
Onsdagen 4:e december kl 18 i galleriet 
Samtal med:
Dougald Hine, co-founder of The Dark Mountain Project – för ett framtidsperspektiv
Birgitta Elfström, Riksantikvarieämbetet – historiskt: människans förmåga att anpassa sig
Ottar Carlheim-Gyllensköld, nutid utifrån ett eko-ekonomiskt perspektiv
moderator är Patrik Qvist och samtalet hålls på svenska/engelska.
susanne pettersson gallery

gävlegatan – 10 b – 113 30 stockholm

mobil: 0046 (0) 731 83 91 71

info@spgallery.se – www.spgallery.se

öppettider: ons-tors-fre kl 12-17 lörd 12-16 el efter överenskommelse
---
---
"Meteoros",från en gravyr ca 8 x 12 cm, 1896
---
Donau svämmar över sina bräddar. Det gick åt helvete i Ungern idag. Ett rött gift läcker ut över slätten, det är visst en damm som brustit.
( anteckning, 10 oktober 2010 )
När jag var liten på 70-talet, var mina föräldrars skilsmässa och kärnvapenkrig det värsta jag kunde tänka mig. Jag kommer ihåg böcker med teckningar av svampmolnet, bilder av springande människor och känslan av att det inte fanns någonstans att gömma sig.
The Danube runneth over. Something gone very wrong in Hungary today – the fields by the river flooded with a red poisonous sludge; dam failure upstream. ( note Oct 10th 2010 )
When I was a kid in the seventies I was terrified by the possibilities of nuclear war and that my parents would get a divorce. Both events posed an equal threat to me. I seem to recall children ìs books with colorful pictures of mushroom clouds and people running. A feeling of nowhere to hide, nowhere safe.
Det personliga är ofta en bra utgångspunkt till att berätta något allmängiltigt. S.P.G har glädjen att för första gången presenteraPatrik Qvist och hans berättelse/gestalning kring frågor som påverkar oss alla.Sunsets to expect är en serie målningar, skulpturer och videoverk som handlar om natur- och miljökatastrofer.Under två års tid har Patrik Qvist följt medias rapportering om hur klimatförändringar tar sig allt mer katastrofala uttryck. Drivkraften har varit lika stora delar rädsla och förundran– rädsla för hur framtida landskap kommer att se ut, och förundran över hur vardagslivet fortsätter att vara en så betydande del av problemet. Det dystopiska ligger nära till hands för livet i antropocenen; verken som presenteras här är en form av besvärjelse.Utställningen pågår tom 14 december
Parallellt med utställningen på S.P.G. har Patrik Qvist en separatutställning på Örnsköldviks Museum och Konsthall på samma tema. Utställningen öppnade den 2 november.
The personal perspective is often a good starting-point to describe something universal. S.P.G is pleased to presentPatrikQvist and his story/configuration in issues that affect us all.
Sunsets to expect is a suite of works that deal with climate change and disasters both man- made and natural.Reports in media have fed an ongoing process in which Patrik Qvist has recorded his reactions, fears and hopes in paintings, sculptures and videos. He is particularly fascinated by the almost schizophrenic sensation of knowing that things are looking rather grim, and yet the daily life goes on as usual. Climate change, global warming and environmental issues are all part of life at the dawn of the Anthropocene; the artist thinks of his work as a practical means of conjuring up ideas for a better tomorrow.The exhibition will run until Dec 14thMeanwhile: Along with the show at S.P.G. in Stockholm, the artist is featured in a solo presentation at Örnsköldsviks Museum & Konsthall that opened Nov 2nd and are part of the same project.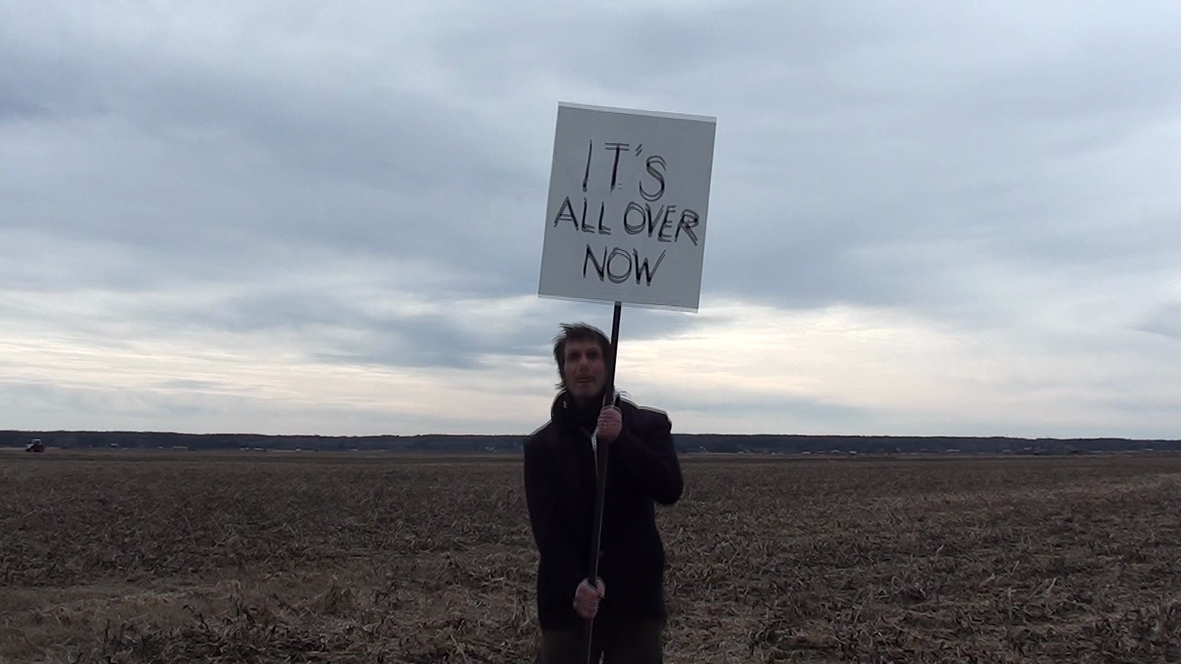 Bild från en performance/aktion i Österbotten April 2013
---
ARTIST TALK onsdagen 4 dec kl 17Domedag vardag- ett samtal om livet i antropocenens gryning med Patrik Qvist och gäster på S.P.G. Hjälper det att källsortera i en värld där alla tecken pekar mot accelererande klimatförändringar och där skiljelinjen mellan vad som är naturkatastrof och miljökatastrof blir allt otydligare och allt mindre relevant? Bryr sig skogen om att jag inte äter kött?
Hur ska jag måla i en värld av sinande resurser? Skulle en grön diktatur kunna bromsa klimatförändringarna och ge planeten en chans att återhämta sig- och hur kan i så fall demokrati och marknadsekonomi fasas ut på ett snabbt men icke-våldsamt sätt? Hjälper det att jag hoppas på det bättre?Nästa utställare/Next exhibition
TERO NURMINEN – Lives and works in Helsinki
opening:9th of January 2014
S.P.Ggävlegatan 10 b
SE-113 30 stockholm
0046 (0)731 83 91 71info@spgallery.se
www.spgallery.se
öppet: ons-tors-fre 12-17,
lörd 12-16
el enligt överenskommelse
---
---
Video & Film
2013 Attempt at Replot island, HDV 33 min
http://www.youtube.com/watch?v=qcNX_KY9AxQ
2012 Attempt at Brite Ranch, HDV 25 min
http://www.youtube.com/watch?v=xG2wgY7spdo
2011 Attempt at the Ocean, HDV 25 min
http://www.youtube.com/watch?v=q030C8hPKqU
2011 Attempt at Monument, HDV 25 min
http://www.youtube.com/watch?v=cBukrN0In9k